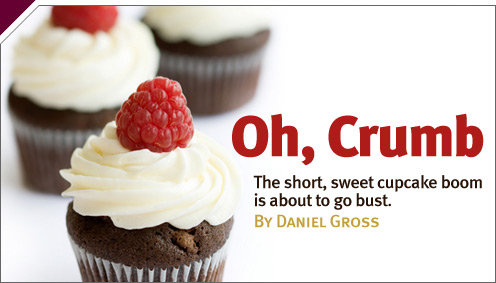 Look, I'm tempted to say that brilliant minds think alike, but I can't always tell how smart the guy across from me is. Anyways, today I saw a SLATE article on Grub Street about how the "cupcake bubble" was starting to pop and how cupcakes are getting out of control. This isn't a surprising theory considering that anyone who isn't a New Yorker can tell you that there is no cupcake trend anywhere else in the world that is even remotely as ridiculous as the one there. And if you do ask a New Yorker about it, he might tell you that they invented cupcakes, so it's totally cool.
Well, in
SLATE's article
, they cite a few cities and examples of recession, overexpansion and how cheap it is to make cupcakes. None of this surprises anyone of course (unless you're 300 lbs and eat cupcakes night and day as an addiction), but what does surprise me is that this sounds eerily familiar...
Which begs the question: Did SLATE magazine coincidentally eat my sloppy seconds or do they just really love Hot Food Porn?
Ahem, what I wrote (see
HERE
), oh about 7 months ago:
"On my many walking tours through NY (less so in SF), I've been to many a patisserie and experienced an overwhelming amount of underwhelming cupcakes. Considering that cupcakes are quite a simple creation, every one and their mom thought they could make and sell them - which is, of course an asinine assumption at best. I am a cupcake fan, but I'm not a fan of an over-saturated cupcake market. It will destroy the cupcake, heed my words.
My fellow Americans, we are on the verge of a cupcake crisis.
There has not been enough regulation in the world of mediocre cupcakes. Look, it may sound silly to be asking for this now, but I guarantee you that 5 years from now when demand hits a new low, we'll all be seeking oversight into the cupcake industry. I feel like cupcake fever has already peaked in NY and the fallout is coming - Crumbs (many locations), Magnolia, Babycakes, Batch, Sweet Revenge, Burgers & Cupcakes, Cupcake Cafe, Tribeca Treats, Sugar Sweet Bakeshop, Little Cupcake, etc.. A few of these places are quite good, but how are all these places staying around by featuring cupcakes?"
What SLATE wrote:
"That punctured bubble may be giving way to an alternative energy bubble. But I've got my eyes on a smaller, but no less revealing, one: the Cupcake Bubble."
"The cupcakeries are succeeding for a few reasons. They're peddling a product that is simple, obvious, and generally affordable."
"
Crumbs
, started six years ago on Manhattan's Upper West Side, is up to nearly
two dozen locations
: five in Los Angeles, and 18 in chi-chi zones of the New York metro area—New Canaan, Conn.; Westfield, N.J.; East Hampton, N.Y.—with three more on the way.
Magnolia Bakery
, immortalized in
Sex and the City
, has three locations in Manhattan. Washington, D.C., is getting in on the act, too"